Editorial Board of "Bionics of Intelligence" was founded by Kharkiv National University of Radio Electronics in 1967.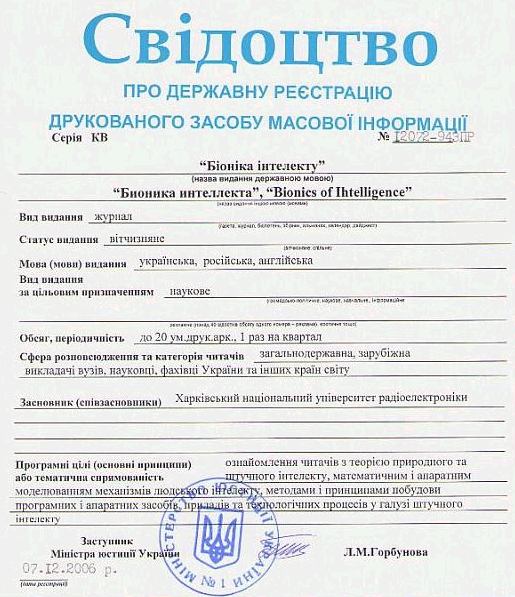 Sphere of distribution and category of readers: national and foreign.
Articles are published in Ukrainian, Russian and English.
The purpose of publishing the journal "Bionics of Intelligence" is the popularization among students, graduate students, engineers, scientists of new scientific directions, technologies, ideas, the convergence of theory and practice. In accordance with the title, the journal reflects the scientific and practical activities of the university and scientific organizations of Ukraine, near and far abroad in the following areas:
theory of intelligence,
algebraic logic,
mathematical psychology,
pattern recognition and speech synthesis,
system analysis,
brain-like structures,
genetic engineering and molecular biology,
logical networks,
expert and ontological systems,
structural, applied and mathematical linguistics,
linguistic technologies in science, education, culture, medicine, economics, ecology, sociology.
The journal is part of the international science databases Index Copernicus, Google Scholar, ORCID, National Library of Ukraine named after Vernadsky V.I. (NBUV).
The journal is included in the List of scientific professional publications of Ukraine, category "B", technical sciences (approved by the order of the Ministry of Education and Science of 02.07.2020 No. 886).
The rules for the preparation of articles can be found on the journal's website:
http://bionica-scimag.com/en/rules
ISBN 0555-2656