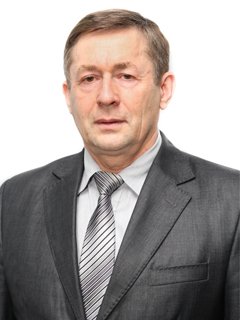 Head of Department of the Media Engineering and Information Radio Electronic Systems , Deputy Head of the Section 4 of EMC, Member of STC, Head of Specialized Scientific Council, Doctor of Technical Sciences, Professor
Scopus ID:
9534197500
| | |
| --- | --- |
| h-index: | 6 |
| Documents by author: | 63 |
| Total citations: | 142 |
Google Scholar ID:
T9fjL7oAAAAJ&hl
| | All time | Last 5 years |
| --- | --- | --- |
| Citations | 390 | 358 |
| h-index | 11 | 10 |
| i10-index | 13 | 11 |
Education and Career
He graduated from the Radio Engineering Faculty of the Kharkov Institute of Radio Electronics.
From 1980 to 1981 – an engineer of the research laboratory of the Military Radio Engineering Academy of Air Defense named. L.A. Govorova;
in 1981-1983 – service in the Armed Forces, position – engineer of the radio group;
since 1984 – associate in KNURE.
---
Educational activity
Basic educational disciplines: "Radio electronic systems"; "Fundamentals of scientific research", "Organization of science and copyright"; "Modern animation technologies"; "Acoustic sensing of heterogeneous media".
---
Research activities
Research Interests: processing sig-nals and images; the adaptation of radiosystems to current changes in atmocphere conditions; syst-ems of  remote sounding the at-mosphere with electromagnetics and acoustic waves; controlling and navigation of mobile ground robots.
The main scientific results: created the theory of vector probing radio-acoustic signals; developed the theoretical basis of optimization and adaptation  of signal processing devices in radioacoustic and acoustic systems of sounding  the atmosphere.
---
Social activities
Participated in the development of higher education standard on specialty 171 "Electronics" for undergraduate (bachelor) level of higher education.
---
International activity / participation in international projects
Scientific supervisor of internship in KNURE of the Head of the Department of Applied Physics of the Autono-mous University of the Lower California (Mexico) State, Doctor of Philosophy Sergienko O.Yu. (September 2017-January 2018).
Scientific supe-rvisor of the dissertation for the Doctor of Technical Scien-ces degree, Head of the Department of Applied Physics at the Autonomous University of the Lower Cali-fornia (Mexico) State, Doctor of Philosophy Sergienko O.Yu. (2018).
---
Publications 
More than 200 publications.