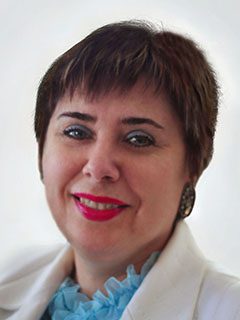 Professor of Information Control Systems Department, Member of STC, Doctor of Technical Sciences, Professor
Education and Career
In 1988 she graduated from the Kharkiv аviation institute named after M.J. Zhukovsky specialty "Automated control systems".
1988 – engineer of Research Institute of Radio Engineering Measurements (RIREM);
1989 – engineer-programmer of RIREM;
1995 – acting Scientific Research Fellow;
1998 – Scientific Research. RIREM;
1996 – PhD;
1997 – Assistant at the Department of Biomedical Electronic Devices and Systems (BME);
1998 – Senior Lecturer at the Department of BME;
2004 – Associate Professor of the Department of BME;
2012 – Professor of the Department of Biomedical Engineering;
2015 – Doctor of Technical Sciences, defended thesis at the International Scientific and Educational Center for Information Technologies and Systems, Kiev.
---
Educational activity
Courses: introduction to BMI specialty; systems analysis and decision making in medicine; methods and tools for the analysis of experimental data; biomedical devices, systems and complexes; medical information systems.
---
Research activities
Research interests: medical cybernetics, decision making in medicine, medical statistics, medical information technology and systems.
Scientific and technical achievements: mathematical models and methods of determining the gravity of human diseases, differential diagnosis and choice of tactics of treatment of patients; information technology decision support in the implementation of therapeutic and diagnostic processes, identifying violations of bioproduction processes endanger Biosafety consumption of water and other natural resources.
Head and responsible executor of state budgetary research work of the Ministry of Education and Science of Ukraine. The executive of a number of agreements on scientific and scientific–methodical cooperation with leading public health institutions of Ukraine and Poland. Supervisor laboratory "Biomedical devices and systems."
Scientific supervisor of state budget scientific research works:
"Development of information technology for the identification of system adaptation opportunities for adolescents with cardiac pathology";
"Development of the technology of remote registration of threats to the biosafety of drinking and other types of water use in extreme situations".
---
International activity / participation in international projects
Member of the Editorial Board of the Austrian peer–reviewed scientific journal «Modern European Researches».
Member of the Organizing Committee of the implementation of the Programme of rounds of inter–laboratory comparisons of measurement results in the determination of biochemical parameters and hemoglobin.
Work on a cooperation agreement with the University of Нumanitas, Poland.
---
Social activity
Participation in work under an agreement on cooperation with a public organization Vivat Socrates and the Union of Zaglibowski, Poland.
---
Publications and patents
460 publications of scientific and methodical nature, including 5 monographs, 38 patents and copyrights, textbook, 4 textbooks. Some recent publications.
Patents – 40