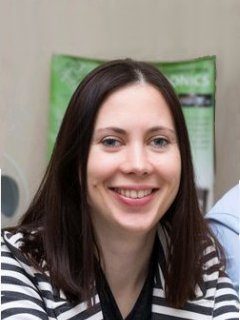 Associated Professor of AI Department, Candidate of Technical Sciences
Scopus ID:
56125026000
| | |
| --- | --- |
| h-index: | 3 |
| Documents by author: | 8 |
| Total citations: | 67 |
Google Scholar ID:
KI5-v6cAAAAJ&hl
| | All time | Last 5 years |
| --- | --- | --- |
| Citations | 167 | 136 |
| h-index | 7 | 6 |
| i10-index | 4 | 2 |
Education and Career
2006 – Master of science, System Analysis and Decision Support Theory (Artificial Intelligence) in Kharkiv National University of Radio Electronics (KNURE);
2007 –  Assistant lecturer at the Department of Artificial Intelligence, KNURE.
2011 – Doctor of Philosophy, PhD in Arificial Intelligence, PhD thesis "Intelligent verification of web-content".
2011 – Assistant Professor at the Department of Artificial Intelligence, KNURE
From 2016 till now – Associate Professor at the Department of Artificial Intelligence, KNURE.
---
Educational activity
Training courses:
Machine Learning,
Web-design,
Expert Systems and Semantic Web,
Corporate portals,
Web 2.0,
Web-applications development,
Information and knowledge management,
Intelligent technologies in Internet,
European Virtual Venture.
---
Researcher activity
The research is focused on Web-based tools, resources, services, and environments supporting new forms of data accumulation, representation, search, processing and sharing based on semantic technologies and methods and models of Artificial Intelligence. The recent research has been done in the field of integration of semantic technology, machine learning, and collective awareness platforms. One of the results is a new semantic technology for development of ontology-driven Web-portals.
Scientific interests: Semantic Web, Linked Data, Ontology Engineering, Machine Learning, Distributed Artificial Intelligence, Web Mining, Computational Intelligence, Cognitive computing.
Research elaborations were applied to various problem domains. A series of projects aimed at the modernization of higher education in Ukraine. National projects funded by Ministry of Education and Science of Ukraine:
Development of the Web-oriented system supporting accreditation and licensing of HEIs in Ukraine (2007-2009)
Ontological portal for management and evaluation of national educational and scientific resources of Ukraine (2007)
Development of the system supporting semantic queries to the ontological base of accreditation and licensing (2009-2010)
Development and introduction of the distributed architecture for the Ontological Portal of MESU for safe, secure and effective management and integration of educational resources of Ukraine (2009-2010)
---
International activity / participation in international projects
Mariia Golovianko has initiated, participated as a researcher, a developer, a teacher, a manager and a coordinator in international projects, such as
EU Tempus Tacis Project SM_SCM-T020B06-2006 (UA) (2007-2008) "Towards Transparent Ontology-Based Accreditation" (http://www.cs.jyu.fi/ai/projects/tempus07/).
Joint Virtual Study Programme in the field of Information Technologies "European Virtual Venture" with ITESCIA (Cergy, France) (2007 – today).
Students Exchange (Joint System Development Training Project) within Virtual Learning Programme (September 2008).
EU Tempus Tacis Project 516935-TEMPUS-1-2011-1-FITEMPUS-SMGR (2011-2015) "Towards Trust in Quality Assurance Systems" (http://www.dovira.eu).
Short-term scientific mission "Searching Big Data under Open World Assumption" (April 2016, University of Jyvaskyla, Finland) funded by COST programme.
Since 2016 MC Observer in COST Actions:
Semantic Keyword-based Search on Structured Data Sources (KEYSTONE) IC1302 (http://www.keystone-cost.eu/keystone/);
Study Abroad Research in European Perspective (SAREP) CA15130 (http://sarepcost.eu/)
Since 2016 a member of a working group in COST Action Interdisciplinarity in Research Programming and Funding Cycles (INTREPID)  (http://www.intrepid-cost.eu/).
---
Publications and patents
More than 25 scientific publications.