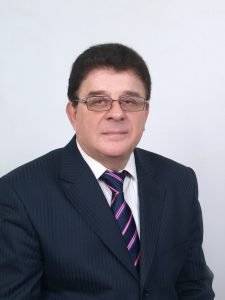 Chairman of the Supervisory Board
Chairman of the Board of PJSC "Institute of Information Technologies", Professor of Security of Information Systems and Technologies Department in V.N. Karazin Kharkiv National University, Doctor of Technical Sciences, Professor
---
Scientific specialty – 05.13.05
1972 – graduated N. Krylov Kharkiv High Command and Engineering School of Missile Forces  (specialty "ACS and communication").
1987 – Doctor of Technical Sciences.
1990 – Professor.
1992 – began working at the Kharkov State Technical University of Radio Electronics.
1997 -1999 – vice-rector of scientific work.
1999 – 2013 – head of the newly established department of information technology security.
1994 – Chief Designer of the Closed Joint-Stock Company "Institute of Information Technologies".
Scientific interests:
cryptographic protection of information;
cryptographic systems and protocols;
modern protected information and communication systems construction;
standardization and certification;
post-quantum cryptography.
Laureate of the Ukraine State Prize of science and technology, "Excellent educator of Ukraine".
Author of more than 300 scientific publications, including 18 learning books and monographs, 85 patents.