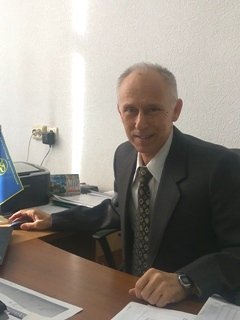 Head of Department Microelectronics, Electronic Devices and Appliances, Deputy Head of the Specialized Scientific Council, Member of EMC, Member of STC Presidium, Head of the Section 1 of STC, Doctor of Physics and Mathematical Sciences, Professor, Member of the NURE Alumni Association
Scopus ID:
35606859900
| | |
| --- | --- |
| h-index: | 4 |
| Documents by author: | 42 |
| Total citations: | 58 |
Google Scholar ID:
2toASK0AAAAJ
| | All time | Last 5 years |
| --- | --- | --- |
| Citations | 258 | 179 |
| h-index | 7 | 7 |
| i10-index | 4 | 1 |
Education and Career
1971 – graduated from Kharkiv State University, specializing in Radio Physics and Electronics.
1971 – 1999 – engineer, senior engineer, leading engineer, chief of the sector, head of the laboratory of CB of the Physical-Technical Institute of Low Temperatures of the National Academy of Sciences of Ukraine (Kharkiv).
1979 – candidate of technical sciences. The dissertation was defended at Dnipropetrovsk State University in specialty 01.04.03 – Radiophysics, including quantum radiophysics.
1999 – 2004 – Associate Professor of Kharkiv University of Air Forces of Ukraine. I. Kozheduba.
2002 – Approved in the academic rank of associate professor of the Department of Aviation Communications.
2004 – 2009 – Associate Professor of the Department of Microelectronics, Electronic Instruments and Devices (MEPU) KNURE.
2009 – 2012 – the leading researcher of the department of the Ministry of Economic Development and Trade of the KNURE.
From 1.09.2012 – the head of the department of the Microelectronics, Electronic Instruments and Devices KNURE,
2012 – Doctor of Physical and Mathematical Sciences.
The dissertation was defended in KNURE on the specialty 01.04.01 – physics of devices of elements and systems.
2016 – approved in the rank of professor in the department of microelectronics, electronic devices and devices.
---
Educational activity
Teaches disciplines: microwave microelectronics, microelectromechanical systems, the basics of scientific research, the organization of science,  the elemental base of electronic means of control and management, the electronics of telecommunication systems, the elemental base of modern microwave microelectronics, thermal imaging devices and systems, measuring sensors and converters.
---
Researcher activity
Scientific and technical achievements: instruments and devices based on high-quality cooled and superconducting resonators are developed and introduced into the practice of fundamental and applied scientific research. Designed stands for the study of cooled radiation receivers and devices of cooled optics. Proposed and developed systems for the formation of primary information signals and high-Q resonator measuring transducers for microwave diagnostics of materials and media.
Since 2013 – member of the specialized scientific council D 64.052.04 KNURE.
Directions of scientific activity: instruments and devices based on high-Q resonators of the microwave range, microwave diagnostics of materials, media and objects, scanning microwave microscopy of conductors, semiconductors and dielectrics, cryogenic radiophysics.
---
Publications and patents
The author of more than 170 publications, including 3 monographs, 8 textbooks, 10 copyright certificates and patents.