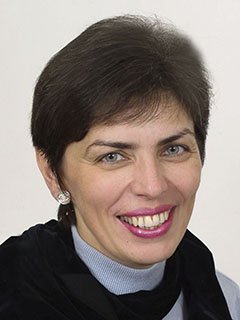 Docent of the Department of Biomedical Engineering, Member of Specialized Scientific Council, Member of STC, Candidate of Technical Sciences, Docent
Education and Career
1986 – graduated from Kharkiv Institute of Radio Electronics, a specialty "Electronic Devices". since 1986 – Engineer of Department of Electrical Engineering, now BME.
2002 – Assistant of BME Department.
2003 – PhD, specialty Medical devices and systems.
2011 – Associate Professor of BME Department.
---
Educational activity
Lecturer on subjects: Electical Engineering and  Industrial Electronic, Medical Imaging Systems, Radiation Treatment Systems (also in English).
---
Research activities
Development of methods and technique for radiation medicine, processing of medical images Collaborator of scientific project of NAMS of Ukraine in the field of radiation oncology.
PDR: No. DR 0115U003003 Selection of tactics for the treatment of bone metastases 153Sm-oxabiphorus to reduce the risk of lesions (NAMN 03.15).
Conferences: Problems and prospects of territories' socio-economic development. Poland, Opole, April 14-17, 2016.
Natural readings: III-th international scientific-practical. Conf. Chernivtsi, May 19-22, 2016.
Leadership of scientific work of students – 2 students.
---
Publications and patents
Author more than 70 publications, including 4 patents.