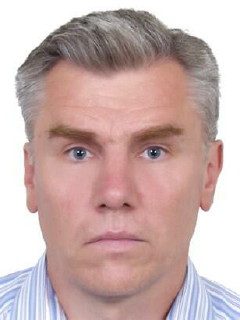 Associate Professor of the Department of Software Engineering, Candidate of Technical Sciences
Education and Career
In 1992 he graduated from the full course of the Kharkov Polytechnic Institute, specializing in information and measuring technology,
From 2002 to 2012 – Senior Researcher of the Department of Software Engineering of the Kharkov National University of Radio Electronics,
2006 – candidate of technical sciences, specialty 05.13.23 – systems and means of artificial intelligence, "The method of identification of a person on the basis of an individual speech code",
2013 – Assistant, 2014 – Senior Lecturer, 2017 – Associate Professor, Software Engineering Department, Kharkiv National University of Radio Electronics.
---
Educational activity
Lecture courses: Basics of pattern recognition, Mobile application development, Internet application development, Program and data security, Programming on Android.
---
Research activities
From 2002 to 2012 he was a senior research fellow, responsible executive of a number of research works on pattern recognition.
---
Publications and patents
20 publications, including 1 patent and 1 monograph.