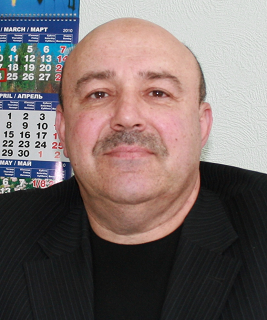 Head of Department of Foreign Languages, Member of EMC, Cand. Sc. (Education), Associate Professor
Education and Career
1976 – graduated from Kharkiv State University, School of Foreign Languages, Department of Translating and Interpreting. Majoring in the English language, translator/interpreter.
1976 – 1984 – USSR Armed Forces. Military service abroad as a military interpreter/translator.
1984 – 1988 – teacher of English at Kharkiv State Pedagogical Institute.
1984 – 1988 – work abroad.
1989 – for now – teacher, senior lecturer, Head of Department of Foreign Languages at KhNURE.
2007 – defended a PhD thesis in the Theory of Education.
2007 – Cand. Sc. (Education), Associate Professor of the Department of Foreign Languages.
1992 – Head of Department of Foreign Languages, Kharkiv National University of Radio Electronics.
---
Education activity
Courses provided: Foreign Language, English for Specific Purposes,  Business English, English for Scientific Contacts.
---
Researcher activity
Area of expertise: theory and practice of translating/interpreting, military translation, Organization of Academic Activity Control of Technical University Students.
---
International activity / participation in international projects
Participation in the Project 516935-TEMPUS-1-2011-1-FITEMPUS-SMGR Towards Trust in Quality Assurance Systems.
Participation in the Project 530576-TEMPUS-1-2012-1-SE-TEMPUS-SMHES.
---
State Awards
Badge of honor: Excellent Worker of Education.
---
Publications and patents
Over 20 scientific publications, Including 4 training manuals approved by the Ministry of Education, training dictionaries, etc.